Radish Recipe Page
Submit your own recipes to be included in our recipes page.
Here are some recipes for fresh berries, courtesy of Chef Kurt Michael Friese of Devotay Restaurant in Iowa City. For his story on berries, see the June issue of Radish magazine.
Berry Coulis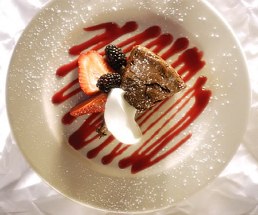 For each cup of raspberries or blackberries, make about 1/2 cup simple syrup (that's equal parts sugar and water brought to a boil). Puree the berries in a blender or food processor, and add simple syrup to taste. Strain through fine mesh for a more elegant appearance. Use a squeezee bottle to make nice designs on dessert plates.

Strawberry-Rhubarb Pie Filling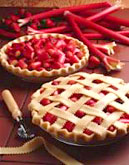 Nearly everyone has his or her own favorite piecrust recipe, so I encourage you to use yours, except to say please use butter, not shortening or margarine. Not only are the latter two indigestible, they make heavy, leaden crusts to boot!

2 eggs, lightly beaten
3/4 cup sugar
2 tabelspoons all-purpose flour
1-1/2 cup fresh rhubarb, sliced
1-1/2 cup fresh strawberries, halved or quartered (depending on size)
1 teaspoon orange zest
1 tablespoon orange juice
1 teaspoon fresh ground cardamom
A little butter, to top


Beat the sugar and flour into the eggs. Fold in the remaining ingredients (except the butter). Fill an unbaked pie shell and top with bits of the butter. Cover this with a lattice of pie dough, brush with egg wash, sprinkle with sugar, and bake about 40 minutes at 350 degrees until golden brown. Allow to cool in the kitchen window to make your neighbors envious.

Mango-Cherry Pico de Gallo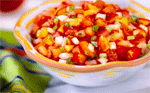 2 mangos, peeled, seeded and diced
6 ounces cherries, pitted and halved
1 red bell pepper, seeded and diced
1 green bell pepper, seeded and diced
1 red onion, peeled and julienned
2 serrano peppers, seeded and minced
1/3 cup cilantro, chopped
2 limes, juiced


Simply mix all the ingredients and let stand refrigerated at least one hour. It is better, though, to make one day ahead and stir occasionally. It lasts in the refrigerator for about three days. Absolutely fantastic with almost any grilled item, especially pork, veal, or salmon.